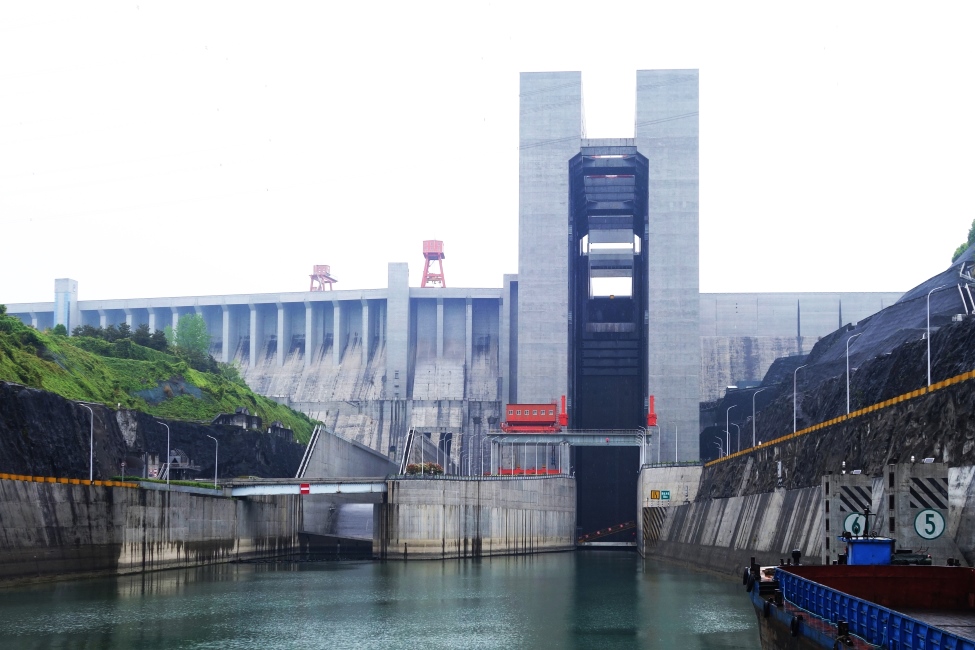 Successful trial operation of the ship lift at the Three Gorges Dam
The trial operation of the ship's hoist at the Three Gorges Dam, China, which has been running since September 2017, has so far been successful. KREBS+KIEFER, in a joint venture with Lahmeyer International, is responsible for the tender-ready project planning of the world's largest structure of its kind.
Up to now, the operating times for the ascent and descent at the dam have been reduced to approx. 50 minutes by optimizing the operating procedure. The ship lift is operated on behalf of the China Three Gorges Corporation (CTG) by the Three Gorges Navigation Authority. The latter is also responsible for all ship operations on this section of the Yangtze, the world's busiest inland waterway.
Together with an international group of experts from PIANC working group 207 "Innovations in Shiplift Navigation Concepts", Prof. Dr.-Ing. Jan Akkermann, Professor at Karlsruhe University of Applied Sciences and Managing Director at KREBS+KIEFER, was able to convince himself of the functionality of Chinese ship lifts. The installation on the Yangtze River designed by the KREBS+KIEFER/Lahmeyer consortium proved to be very reliable and robust.
The subsequent tour of the Jinghong ship lift on the Lancang (Mekong), a system operated innovatively by means of hydraulic floaters, took place during the "15th National Conference of Navigation Structures" in Xishuangbanna. Prof. Dr.-Ing. Jan Akkermann reported on the development of German plants at the affiliated symposium on ship lifts. KREBS+KIEFER is also involved in the new construction of the Niederfinow ship's hoist, both in the planning of hydraulic steel structures and in the testing in massive structural engineering.