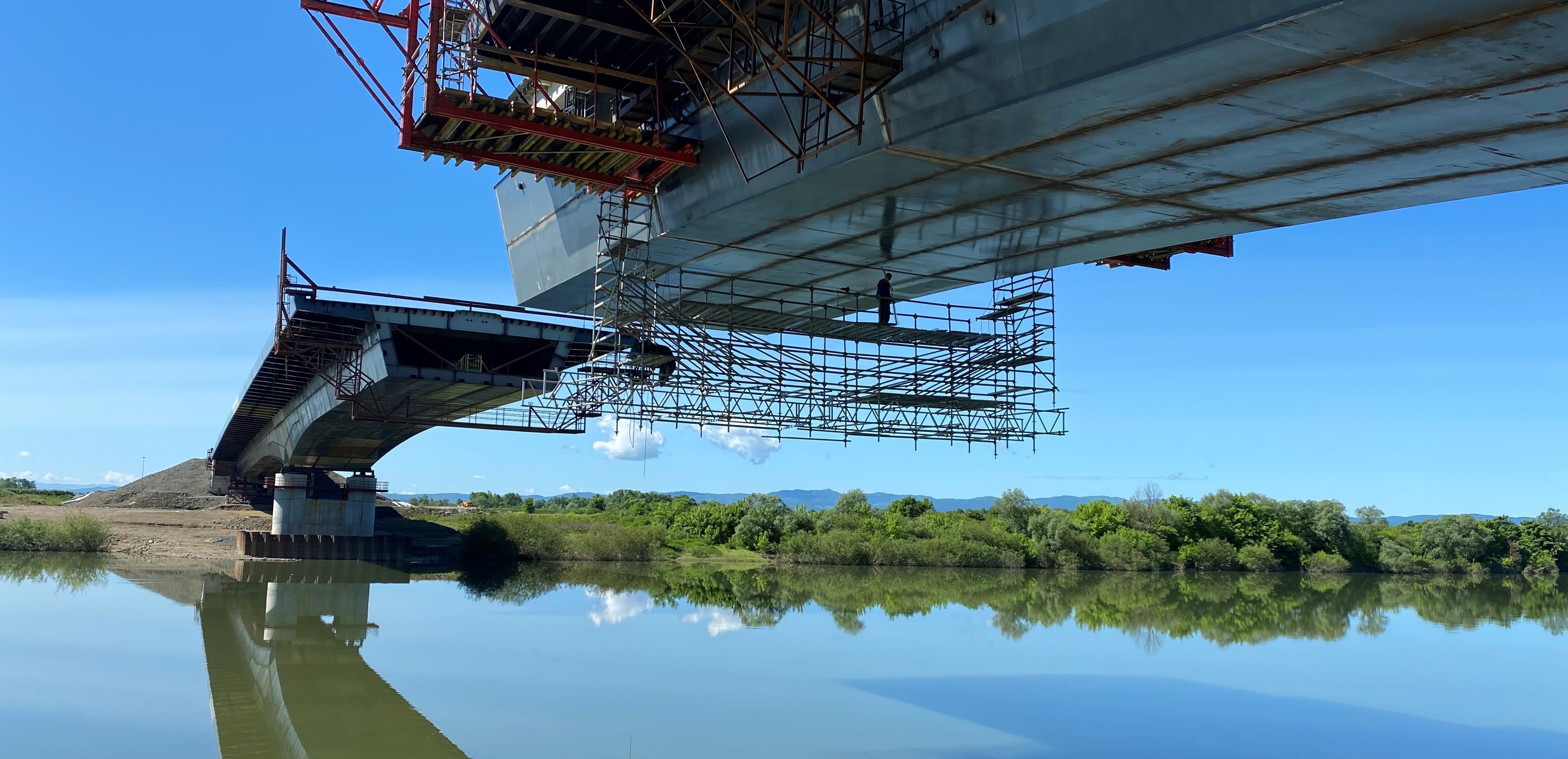 Bridge completion during the construction of the Interstate Sava Bridge near Gradiška
[Gradiška, 15.10.2021] On Friday, 15.10.2021, the large-scale project of the Interstate Sava Bridge near Gradiška, financed by the EIB (European Investment Bank), was joined. At a ceremonial ministerial meeting of both countries in Gradiška, the last weld was placed on the border bridge between Croatia and Bosnia and Herzegovina over the Sava River. With this ceremonial act, the steel construction of the 462 m long box girder bridge was officially completed. KREBS+KIEFER International has been in charge as the lead performing construction supervision and contract administration as the FIDIC Engineer (Fédération Internationale des Ingénieurs Conseils) since October 2019 and is successfully implementing the large-scale project with the support of two partner offices from Zagreb and Banja Luka under the management of Mr Lidomir Teklić, Managing Director KREBS+KIEFER International GmbH. Construction completion is scheduled for the end of June 2022.
"Despite the pandemic-related challenges for almost two years now, the multicultural team with its outstanding commitment has contributed to the fact that there was no construction stop. Both the construction progress and the quality of the work are remarkable," Teklić reports.
In total, over 4,800 tonnes of steel have been manufactured, delivered to the construction site and assembled at the Croatian steelworks in Slavonski Brod over the past two years.
Based on the agreement between the Government of the Republic of Croatia and the Council of Ministers of Bosnia and Herzegovina on the joint construction of an interstate bridge over the Sava River near Gradiška, the basics of cooperation in the preparation and construction of the bridge and its border sections were settled. The Sava Bridge is an elementary part of the section of the Bosnian motorway Gradiška - border of the Republic of Croatia and the section of the Croatian motorway Okučani - border of Bosnia and Herzegovina on the E-661 corridor (motorway / motorway: Balaton (E71) - Virovitica - Okučani - Banja Luka - Split), which connects Central Europe and the Adriatic Sea and extends from Lake Balaton in Hungary to Split in Croatia. The project includes in the first phase the construction of the Sava Bridge with part of the access roads.