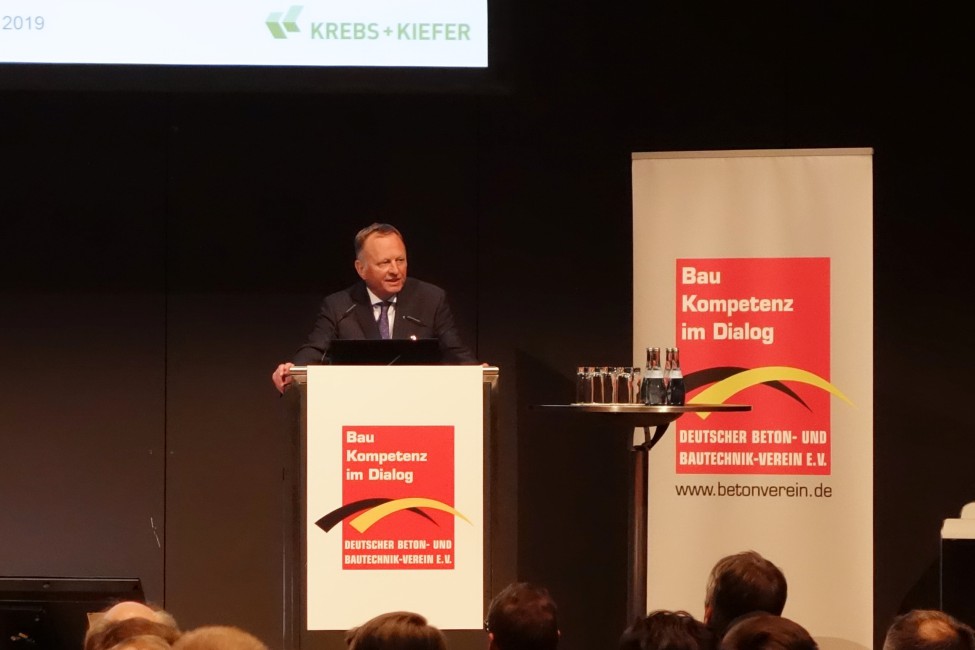 German Construction Technology Day 2019 in Stuttgart
Already for the second time on 7th/8th March 2019 the "Bautechnik-Tag des Deutschen Beton- und Bautechnikvereins e.V. (dbv)" was held at the Stuttgart ICS. And again with manifold and numerous participation of KREBS+KIEFER.
The congress, which was attended by contractors, planners and construction managers alike, attracted around 1400 interested parties. Dr.-Ing. Hans-Gerd Lindlar, Managing Director of KREBS+KIEFER in Erfurt, explained the complex planning conditions of the new BAB 7 tunnels in Hamburg. There, KREBS+KIEFER is responsible for the implementation planning of the eight-lane motorway cover as part of a planning consortium.
In the specialist session on "Innovations and knowledge transfer into practice", Prof. Dr.-Ing. Jan Akkermann, Managing Director of KREBS+KIEFER in Karlsruhe, moderated various lectures at the interface between research and implementation. In his function as professor at the Karlsruhe University of Applied Sciences, Prof. Akkermann also contributed a specialized contribution to current research results in the maintenance management of waterway structures.
The expert jury, to which Prof. Akkermann also belonged as a member of the extended dbv executive board, attached particular importance to a balanced mix of practical reports, innovations, research results and social discourse when designing the programme. The latter was particularly ignited by Prof. Norbert Lammert, former President of the Bundestag, in his brilliant keynote speech on "Europe - Construction sites, bridges and major projects".
The evening get-together in the trade exhibition designed as a "market place" offered the congress visitors, including a good dozen from the ranks of KREBS+KIEFER, the best opportunities for numerous technical discussions and relaxed communication at physical well-being.