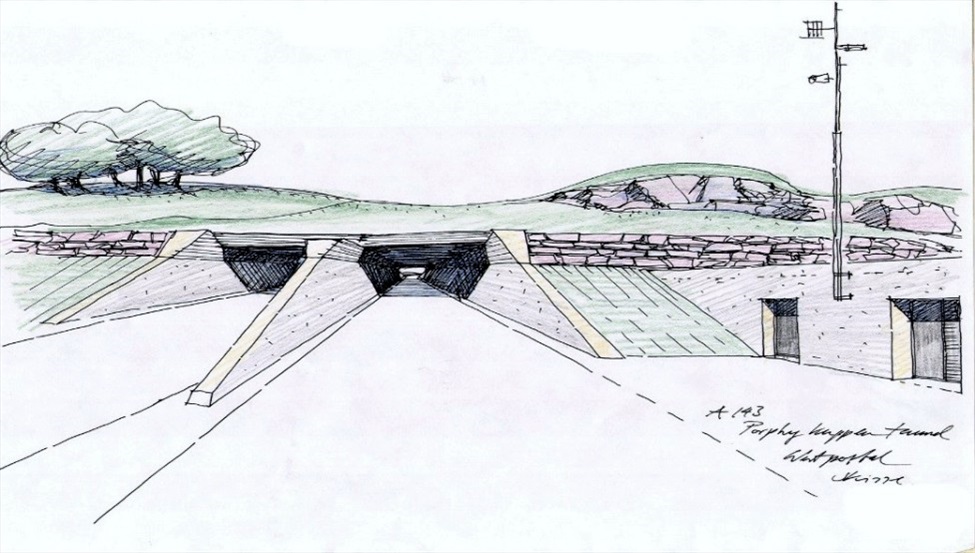 A 143 motorway: Halle western bypass (VDE No. 13) - under construction
The A 143 motorway is part of the Central German Loop and closes the double motorway ring around Halle and Leipzig, which at the same time relieves the city of Halle of interregional through traffic.
The Halle western bypass is a 21.6 km long, four-lane new construction. For the northern section with a length of 12.4 km from the Halle-Neustadt junction to the Halle-North junction triangle, the planning approval decision has been available since April 2018.
For this purpose, a fourth planning amendment procedure had been necessary in advance to optimize the landscape tunnel "Porphyrkuppen" and the associated changes and additions to the technical concept as well as the route design and environmental planning.
With a view to nature conservation, it was imperative to preserve the porphyry crests, a strictly protected natural area with rare plants and animals.
The crossing of the fauna-flora habitat "Porphyrkuppenlandschaft" northwest of Halle, required by the route of the A 143 motorway, represents a special challenge from a nature conservation point of view - over a length of about 600 metres.
In order to keep the disturbance of this nature reserve as low as possible, an approximately 300-metre-long tunnel with state-of-the-art ventilation technology will in future pass under this protected landscape and ensure that the biotope network is maintained in the long term.
KREBS+KIEFER Erfurt was also able to assert itself in this VGV procedure following an early examination of the variants and was awarded the contract for work phases 3 and 6 for the object and structural design of the "Porphyrkuppen" landscape tunnel.
By mid 2021, KREBS+KIEFER will thus provide general planning services to the tune of around 1 million euros.